Boxing Day Dip
Registration for all those wishing to enter the water on Boxing Day will be between 10 and 10.45 am, with a Safety Briefing at 10.45. The dip will take place at 11am, there will be safety cover at the waters edge, the decision to go into the water will be dependant on the sea conditions.
Everyone welcome in the Clubhouse afterwards for hot drinks, mulled wine and mince pies.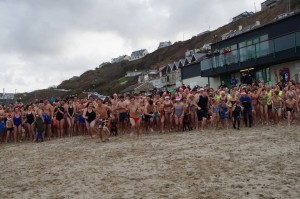 Boxing Day Dip 26th December 2018
Liability Release & Assumption of Risk -PLEASE READ CAREFULLY BEFORE REGISTERING.
DISCLAIMER
There are inherent risks in any physical activity and this event is no exception. The water is very cold at this time of year and participating in this activity carries a risk of personal harm, so you need to be aware of any risk involved and assume personal responsibility for your actions.
It is your responsibility to ensure that you are in a good physical condition and able to participate in this event and if you have any doubts, then we recommend that you seek qualified medical advice before doing so.
By participating in this event, you fully accept and agree that the organisers or fellow participants or any person associated with this activity will not be held liable for any loss, damage or injury to you that may occur during or in connection with this activity.